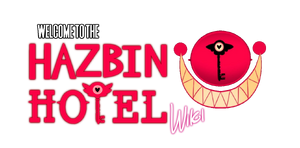 Welcome to the Hazbin Hotel Wiki! We're delighted to have you here, and to help you get started on editing, here is a list of rules and guidelines so you can help expand and record everything that goes on in the series!
General Housekeeping
Please adhere to the FANDOM Community Guidelines. The Hazbin Hotel Wiki needs your support and edits, but keep civil.
English in English posts, etc.

Hazbin Hotel Wiki acknowledges that the series has fans from around the world. In order to handle such a diverse community, please create pages that are in one language.

Grammar

Hazbin Hotel Wiki strives for a more uniform, professional wiki experience. In order to do so, please exercise some form of formality and grammar. Because this is an American wiki, please refer to Oxford punctuation.

No spam, trolling, off-topic images, or off-topic posts. Spam, in all forms, is not tolerated. Please contact the administrator(s) for further information.
Avoid profanities in pages, unless quoting from the show
Speculation
This wiki focuses on accurate lore and canon information, so please avoid adding fake/outdated information. However, there is a difference between speculation and fake/outdated information:

Speculation that is based on evidence is permitted, like with all wikis of the same nature as Hazbin Hotel Wiki. However, in order to avoid confusion, lack of trust from the Hazbin Hotel team, and general disorderliness, you should check whether previous information is still valid/solid when you change or edit it. Lastly, please indicate whether it is based on your/the general community's speculation, rather than true canon, and be able to present evidence from clear and reliable sources.

No headcanons. Headcanons are not tolerated. If you see someone editing/replacing correct information with their own, do not hesitate in contacting the admins.
Staff
The staff of the wiki are available for contact at any time.
Reporting
Please notify admins immediately if a user is being unruly, and do not engage on their walls.
Templates
Templates are available for use on the wiki.
Community content is available under
CC-BY-SA
unless otherwise noted.