"Hi, I'm Niffty! It's nice to meet you! It's been a while since I've made new friends!"
―Niffty introducing herself
Niffty is a Sinner Demon who works as both the maid and cook for the Hazbin Hotel and is one of the main supporting characters in Hazbin Hotel.
Appearance
Niffty is a small one-eyed demon, akin to a cyclops. Her one large eye has a hot pink and yellow sclera with a light yellow iris, and a black pupil. She also has a single eyebrow and white skin.
She has short pink hair with a yellow highlight. Her teeth are sharp and light yellow, and she has small pink dots at each corners of her mouth, evocative of dimples.
Her attire is that of a red 1950's maid dress and a white apron over it with three dripping splotches. She wears a dark red neckerchief. She has small, pointed limbs with her arms being black and her legs colored dark red.
Pilot
In the Pilot she had red-pink scruffy hair and her limbs were a dark pink color.
Her attire was 1950s themed; she wore a dark pink neckerchief, a white blouse with pink dripping splotch patterning, along with a bright-pink swing skirt featuring a 50s'-fashionable dark pink poodle design with yellow dots.
Personality
Niffty is hyper, spontaneous, and agile, being very quick on her feet. She is easily entertained, easily distracted, and easily excitable. She dislikes when there is a mess in any room, and has a fixation on men in general.[note 1]
Abilities
Natural Abilities
Skillset
Galleries
Concept and Creation
Niffty was originally intended to be a character that would feature in an arc of VivziePop's then-running webcomic, Zoophobia, titled "Angels and Demons".
VivziePop eventually realized that the collection of misfit demons she had designed to appear within the comic had the potential for their own self-contained story, and shifted them, including Niffty, over to the first draft of what would eventually become Hazbin Hotel.[7][8][9]
Niffty's design and theming has changed very little over the course of her development. Only her sewing needle motif seems to have become less prevalent through later illustrations, and her patterning eventually simplified for later animation in the pilot.
Niffty is themed around bugs and B-movie aliens, matching her 1950s kitsch aethetic. VivziePop cites the song "One-Eyed, One-Horned, Flying Purple People Eater" as in influence when designing her.[10]
Trivia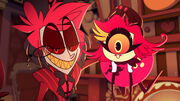 Development
References
Notes